Among the variety of online games, Clash of Clans has its own place. Even today after almost 9 years after its release, it is one of the most played games in the world. As the name indicates, this game includes fights between villages (or clans) to gain resources like gold, elixir, dark elixir, and gems. These resources are then used to upgrade your own buildings, train your troops, and upgrade spells. The game is played online and is set in a fantasy world. It can be played as both single-player and multi-player and has exciting new features after every upgrade. COC Bases can be played on both iOS and Android systems. Furthermore, a desktop version of clash of clans is also available.
A little overview of this game is that it has two types of armies, the attacking and the defending. The attackers' job is to attack and defeat the defender in a critical time period. If the attacker wins, he will get the defender's hit points and various other resources.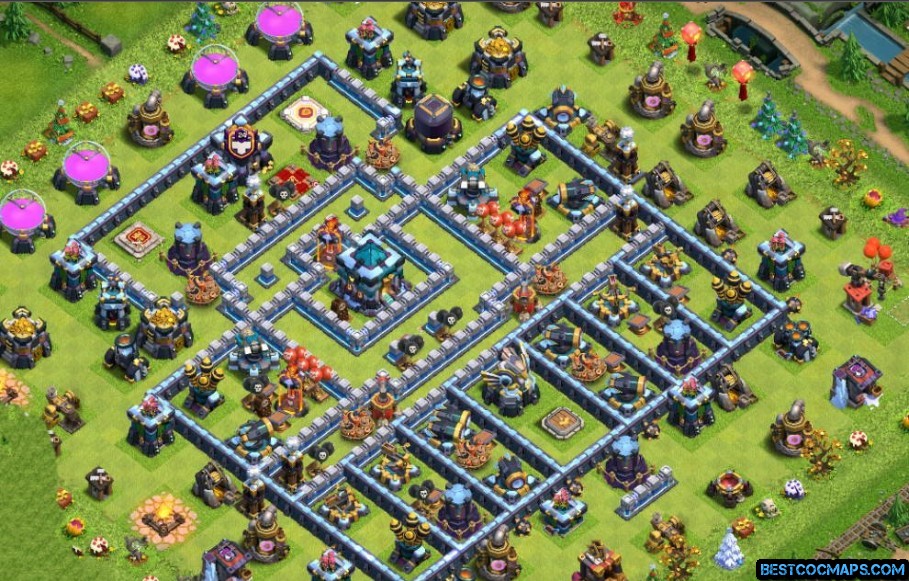 What is Builder Hall?
In the builder base, there is a Builder Hall which is accessed by players once they reach Town Hall 4. The players get to access Builder Hall by mending a broken boat present in Town Hall 4. The purpose of this hall is to upgrade the buildings present around the Town Hall of your village. These buildings include Star Laboratory, Gold Mine, Army Camp, etc. To date, Builder Hall has 9 levels, and the more levels you upgrade to, the more buildings are repaired in your village.
Furthermore, you have to save your Builder Hall from foreign attacks. If it gets attacked by your opponent's clan it will get a star which is not good for your game score. The ideal location for your Builder Hall is in the center of your village, surrounded by other buildings. This way it will be protected and will be difficult for the opponents to reach it. Builder Hall is present on a different base and not as same as your Town Hall. You can travel there by boat.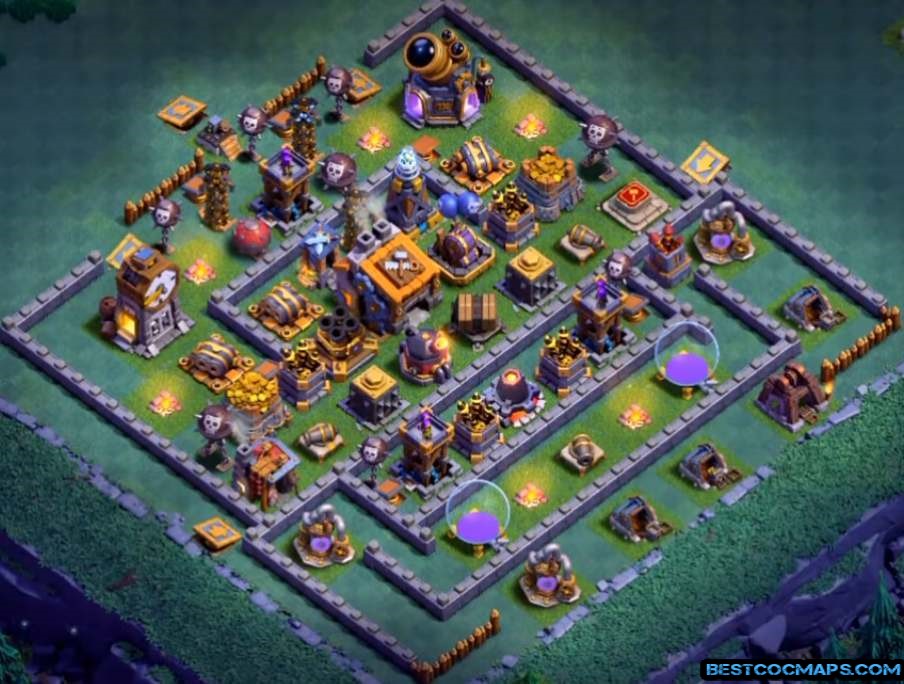 What is Town Hall?
Just like Builder Hall, you must protect your Town Hall at all costs. To put it simply, this hall is the core (heart) of your village. The main objective of a player is to protect his Town Hall from attacks from opponent clans. If an opponent attacks your Town Hall and wins, then your village will be destroyed and they will get abundant resources. About 20% of all the 3 resources, gold, elixir, and dark elixir, are won after destroying the opponent's hall. This hall has the highest hit points, no matter what level it is on.
To date, there are 13 different Town Halls, upgrading from each level brings new exciting features. Like, you get to unlock new defenses, exciting new traps, advanced buildings, and more things. Another change that occurs in these halls is their visual appearances, they have significant upgrades as well. Levels 1 and 2 do not have many buildings and appearances. At this point, the Town Hall is a simple orange-colored hut with a few holes, and as far as other buildings go, only 2 cannons and an Archer Tower are available.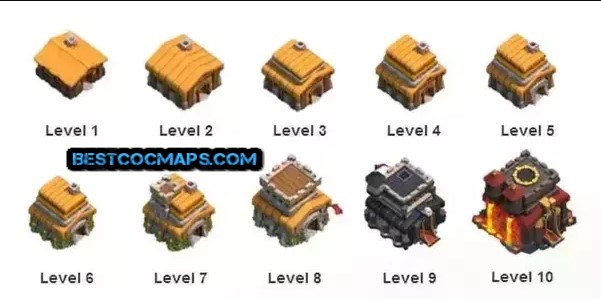 The following is a list of all the other upgrades and what new features they bring along, level-wise:
Town Hall 13 Bases
This is the latest upgrade level of a Town Hall and similar to the Town Hall 12, it also has multiple upgrades, from Level 13-1 to Level 13-5. The color of these halls is now turquoise blue. The color of this upgrade is based on the winter theme, considering because it was released in December.
Similar to the previous upgrade, this one also has an addition to a new building called Giga Inferno. It also has the same functions and benefits as Giga Tesla with the slight difference that it slows the effect of destruction. This way you have more time to recover or attack back. Furthermore, it has more potential to be upgraded as compared to the previous type. As it is the latest upgrade level, it has the maximum number of buildings (99), the maximum number of traps (38), and the maximum number of hit points (8200).
All the buildings added with the Town Halls' upgrades are defensive buildings. Other types of buildings including resource buildings, army buildings, etc. are added along the way. They can also be bought by using some of your resources like gold or elixir. With increasing updates, you can unlock various other features as well from new spells, to new defense strategies. The number of resource buildings, army buildings, defense buildings, storage capacity, the number of traps, etc. all are upgraded with the increase in the level of Town Halls.
Clash of Clans is a very popular strategy-based game and has a very fast-paced and fun leveling system. Some might even say that it is addicting, once you get the hang of it. If you are a beginner make sure to check out the various beginners' guides available online. It is better to be prepared than to dive in unprepared. Various videos are also available online to help you learn the basics of the game. The following are a few tips for beginners of Clash of Clan players:
First of all focus on building your coc bases and nothing else, invest time and resources in building it.
Learn when to use your shields and when to rebuild them. It is better to rebuild when you have the shield-up, this way no one can attack you.
The gems that you get at the start will be very helpful in the future, so do not use them early on in the game.
As tempting as it may seem, do not upgrade your Town Hall in the early days. First build your coc bases and other defense buildings, so that you can protect your Town Hall if under attack.
Learn the art of both attack and defense, so you can use both strategies in your favor.
These are just a few points and you can find more details online. So, follow these tips and enjoy playing Clash of Clans.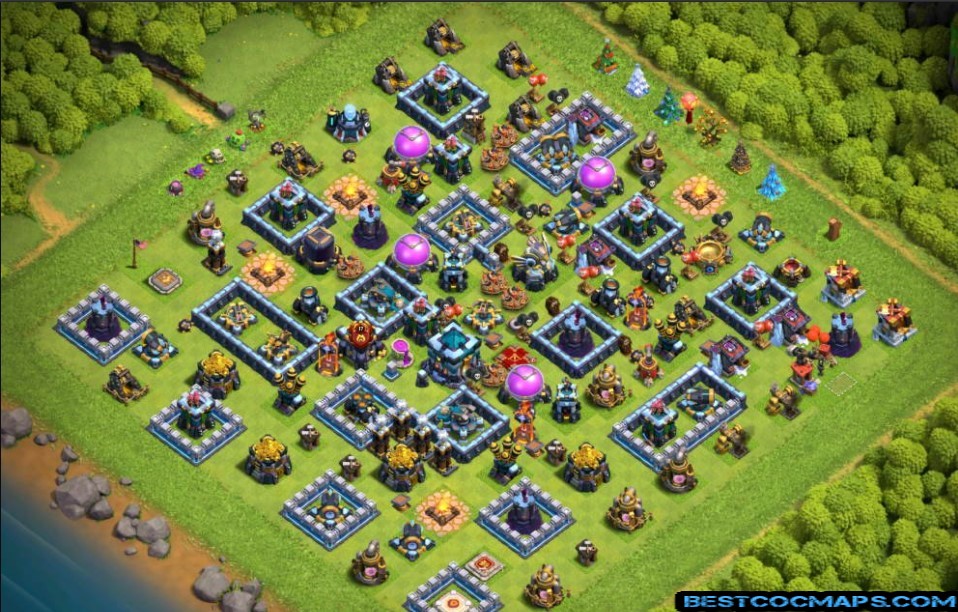 Town Hall 12 Bases
This level has multiple upgrades within itself like it has 5 levels of upgrades, which brings along a slight change in appearances. They are then named Level 12-1, Level 12-2, and so on. At this point, the color of the Town Hall changes to blue. This level also brings the addition of the Giga Tesla building, the best part about this addition is that it allows the Town Hall to defend itself when under attack. It is activated either when about 50% of the village is destroyed by the opponents or when it is directly attacked by the opponent's troops. It can also be activated by a spell.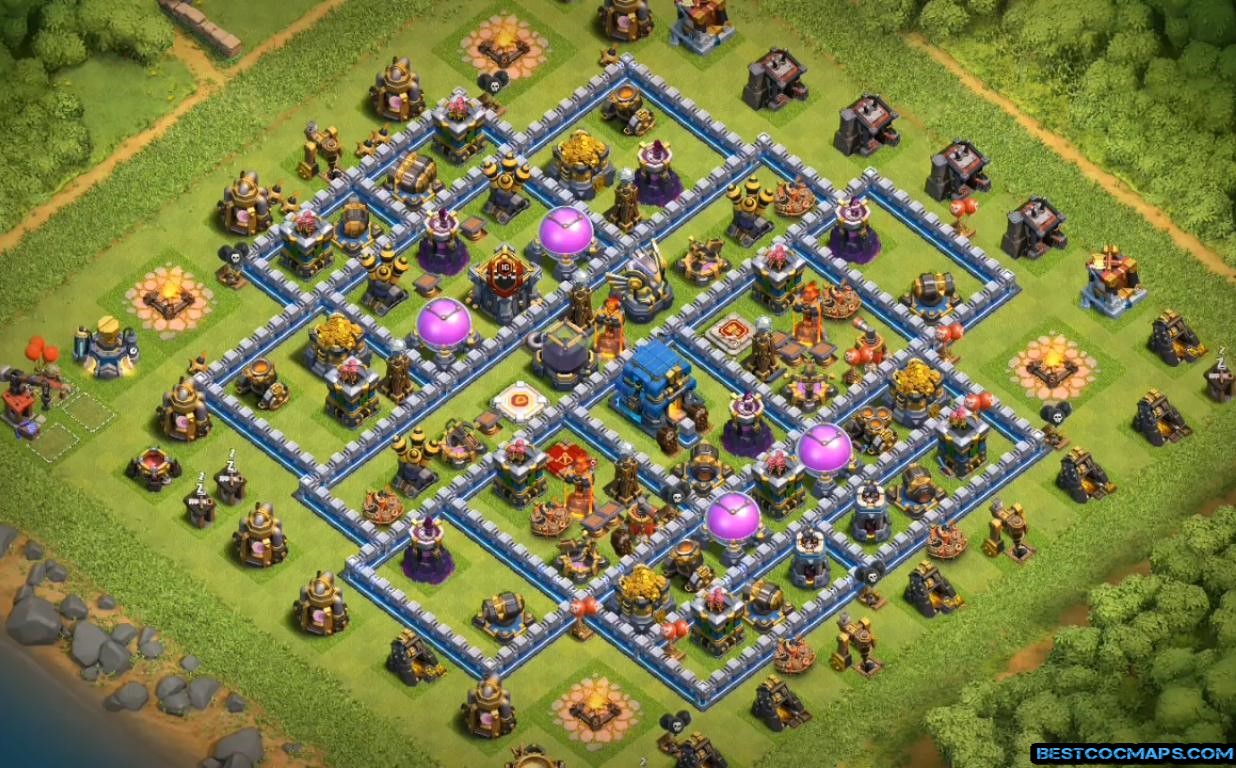 Town Hall 11 Bases
The coc bases of Town Hall 11 changes to the rough stone, instead of flowing lava, now it has a lava pothole and 2 battements, along with one watch-tower in the back. It now has an Eagle Artillery as well.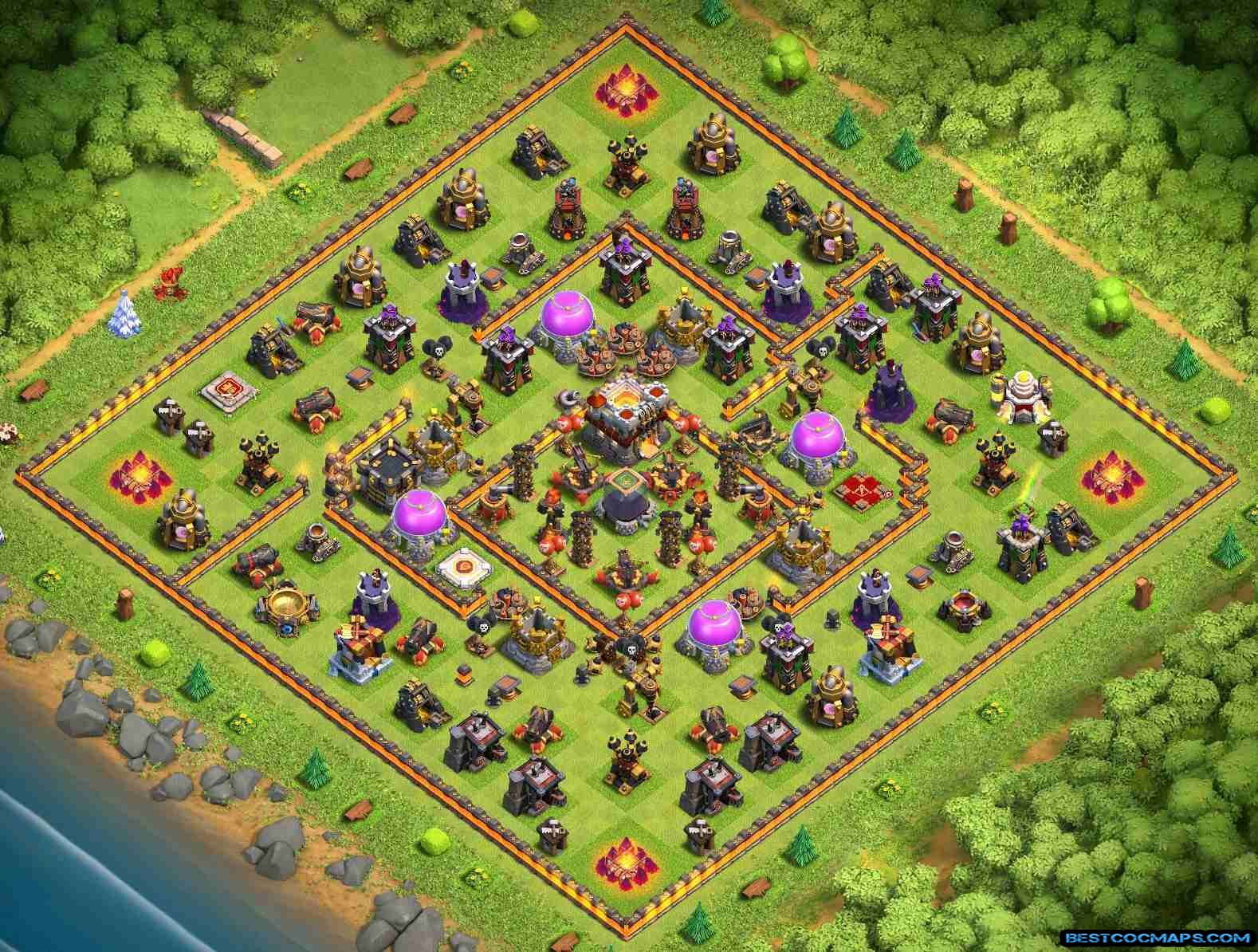 Town Hall 10 Bases
The color changes from dark grey to crimson and the name of the update was 'Fiery Fortress'. Another watchtower is added to the roof, and flowing molten lava is also added to the Town Hall, giving it a fierce look. Two new Inferno Towers are also added to this level, bringing the total count of buildings to 15.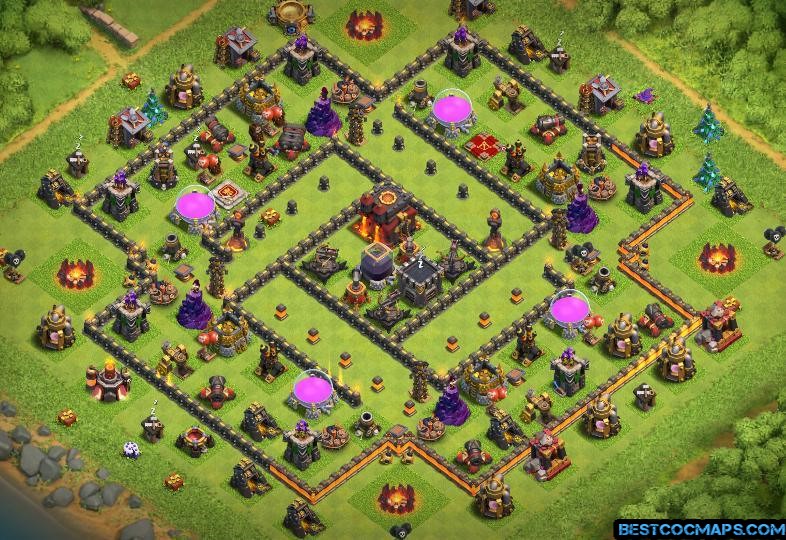 Town Hall 9 Bases
With this upgrade, the theme of Town Hall 9 changes from an orange color to dark grey. Thus, the name of this update was 'Dark castle'. An entry point from the roof is also added, along with a red flag. 2 new X-Bow buildings are included in the village.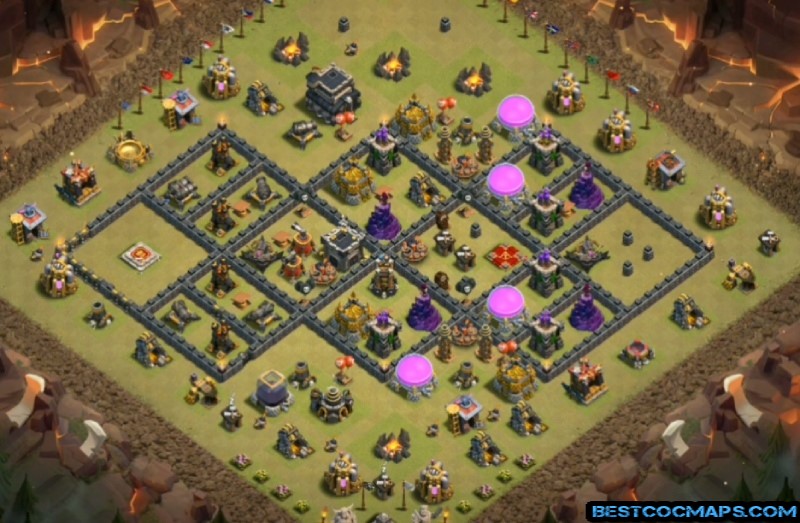 Town Hall 8 Bases
The small battlement now covers the whole of the Town Hall's roof, the chimney disappears and a Bomb Tower is now added. This level also brings the hero boost, with which the heroes (of the players) will have a boost of about 5 levels.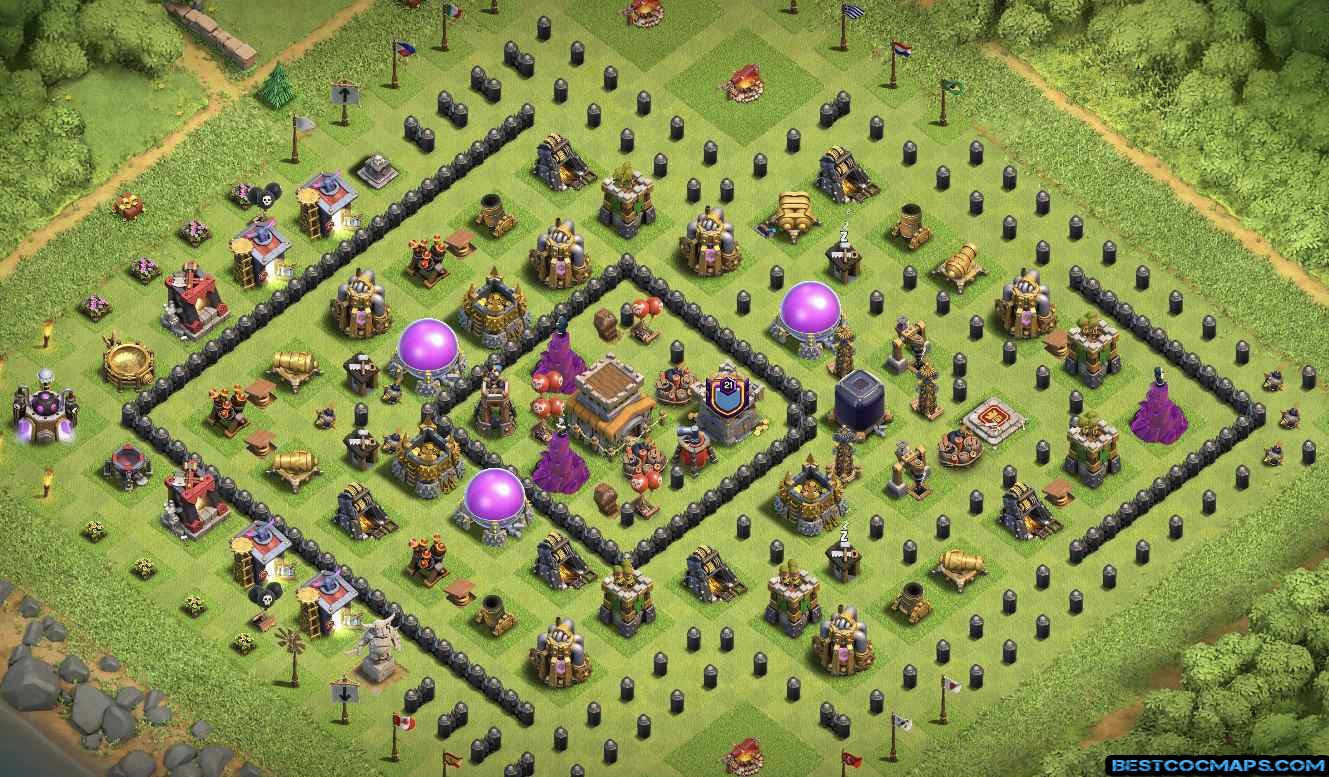 Town Hall 7 Bases
This upgrade brings in the addition of a battlement on top of the Town Hall, along with 2 new Hidden Tesla buildings. Starting from this upgrade, dark elixir is made available as a resource, along with gold and elixir.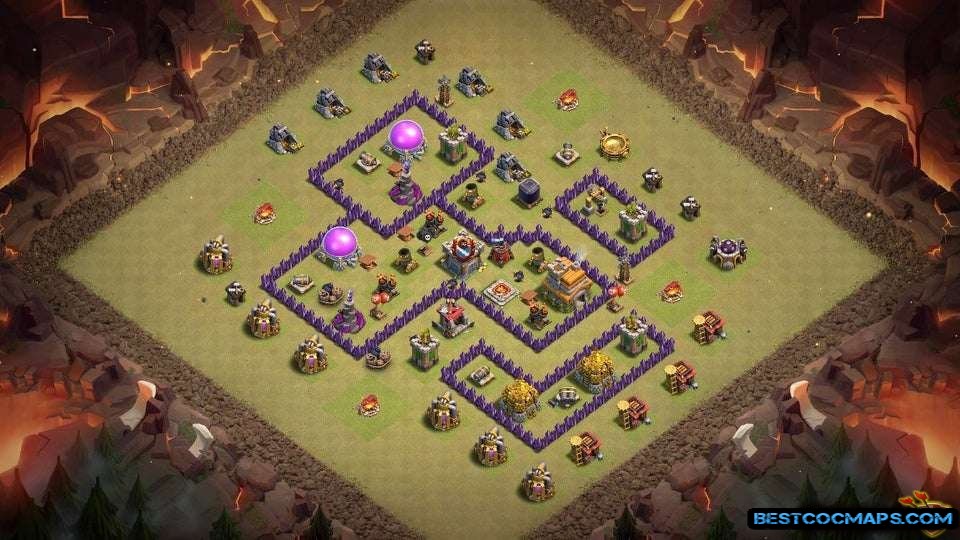 Town Hall 6 Bases
Golden pillars with leaf vines appear on the sidewalls of the hall, partially covering the side walls. An Air Sweeper building is added in this upgrade, in addition to the rest of the buildings. Till this point, both gold and elixir are available as resources.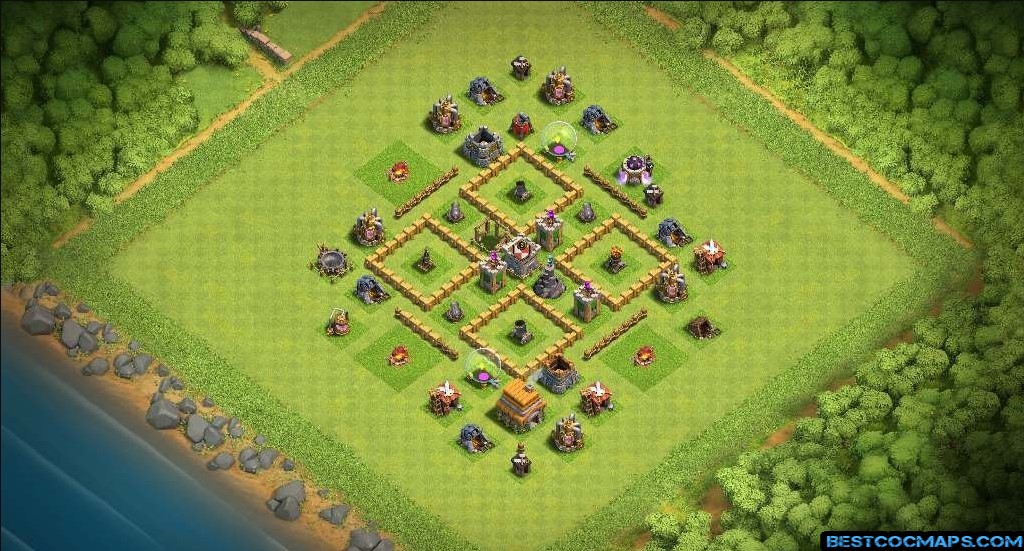 Town Hall 5 Bases
The structure of the Town Hall changes from non-tiled buildings to stone ones. The poles and windows are covered with stones and a Wizard Tower building is also added to the village.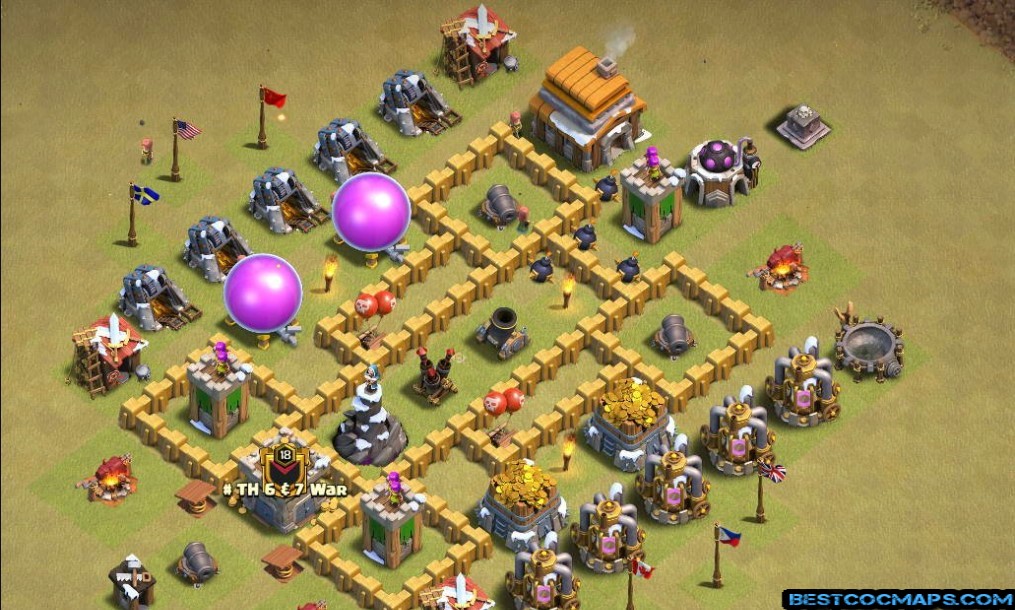 Town Hall 4 Bases
Another tile less layer is added on top of the hall and the position of the chimney is shifted from the back to the front. An Air Defense building is also added at this level. Furthermore, power boost, resource boost, and star bonus boost are unlocked at this level.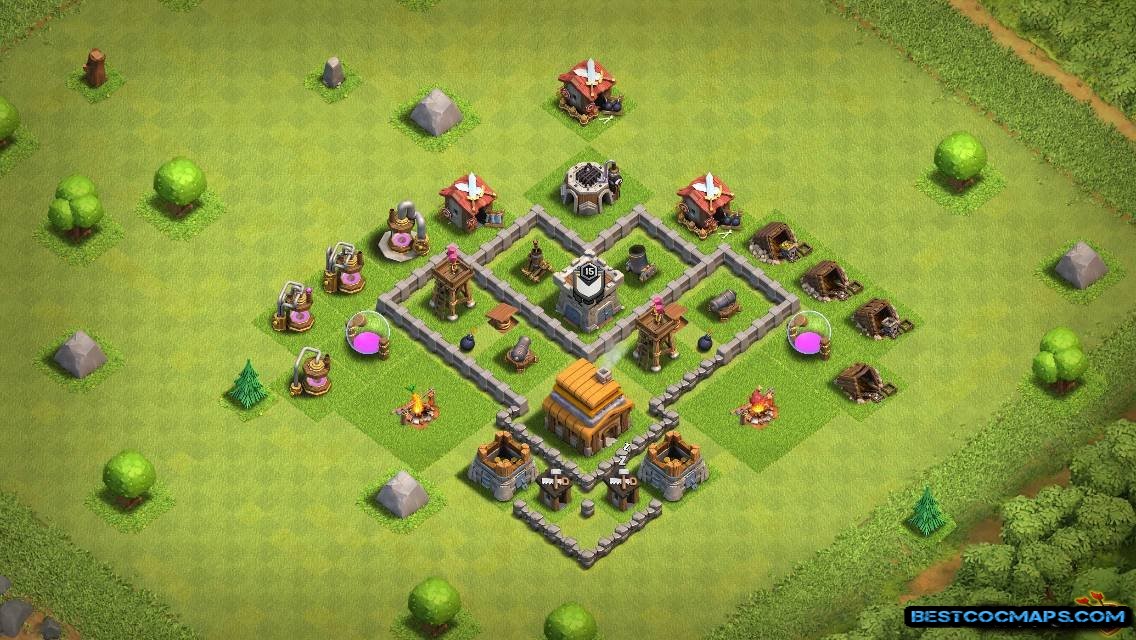 Town Hall 3 Bases
At this point of coc bases, the hut is almost the same as before, with an addition of another rooftop and a Mortar building.
Conclusion
These are the latest coc bases of all town halls. So download these coc bases and enjoy clashing.