The primary aim of the th12 trophy base is to secure trophies. You have to defend the Town Hall also, as in case of its loss; your offender will get stars and trophies. You may also want to remain safe from 50 percent damage in addition to secure the Town Hall.  It is another way for you to earn points.
It is quite hard to remain safe from a 50% loss. Many armies of your opponent would be able to do your loss. They can do so by merely targeting the least-defended areas of the base (typically adjacent to or beyond the front-line walls). However, certain layouts may make it very difficult for your enemy to deteriorate the Town Hall.  Thus, in most cases, you can restrict the intruder to one star.
TH12 Trophy Base Link 2022
The Town Hall is normally located with the Clan Fort, Air Defences, and Air Sweepers, in the main room. If you're a higher-level player, X-Bows, Inferno Towers, and the Eagle Cannons should be on the watch. This means you need to have a single Town Hall which is highly secured. Regardless of which level you are as a player, you to keep your town hall secure to win. In the above trophy base, Town Hall is shown quite a secured position.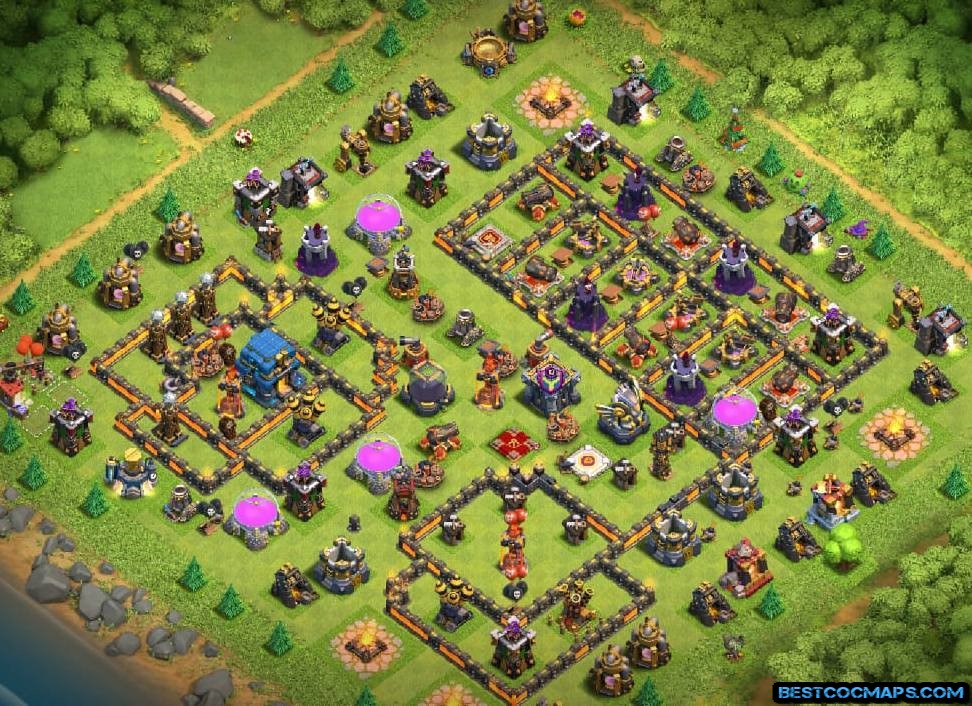 A few walled layers normally also exist between the Town Hall and the base edge. This can have defensive buildings inside, or perhaps one space between walls to destroy another layer of the wall by attacking troops. Each of these methods provides an effective way to slow down potential attackers.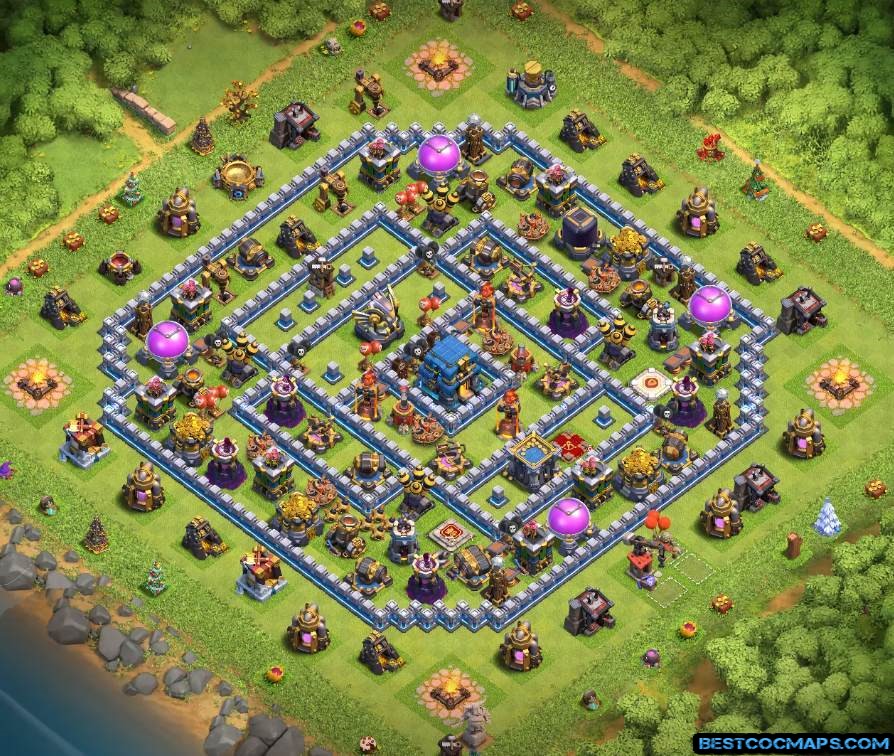 TH12 Anti Electro Dragon Trophy Base
As an alternative to strongly protecting the Town Hall, you may opt to surround the Town Hall. For this, you can leave a wide area unoccupied by buildings surrounding it. You can build Walls to wall it off and plug any holes that exist in the foundation to secure your Town Hall.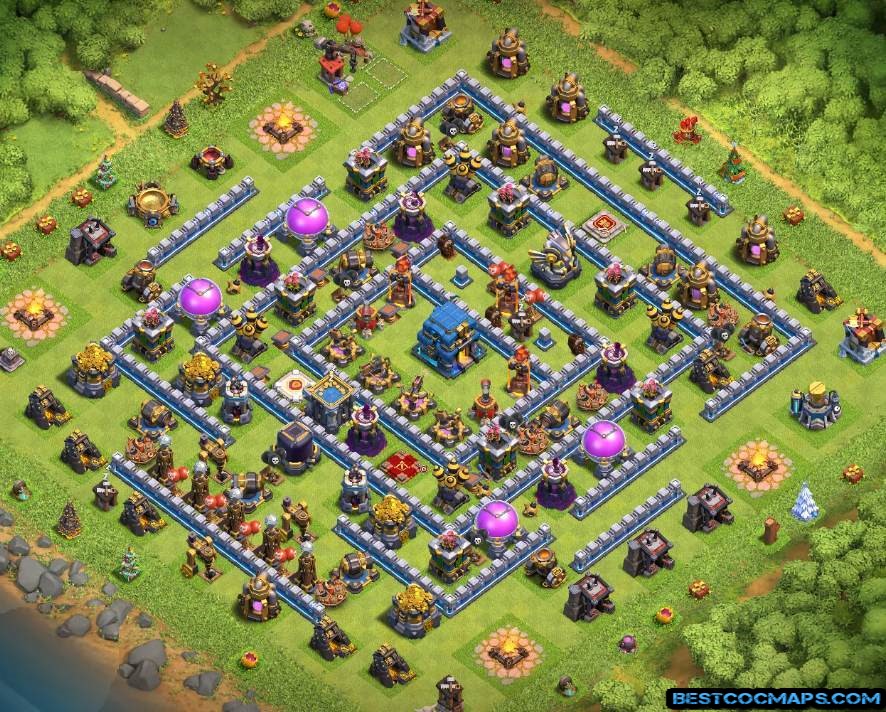 This indicates that troops fighting are mostly going around the Town Hall rather than against it. However, this opens up the Town Hall to Wall Wreckers and War Blimps. These are sent out at the end of an assault that can hold troops like P.E.K.K.As from Clan Castle. These troops may damage the exposed Town Hall while battling.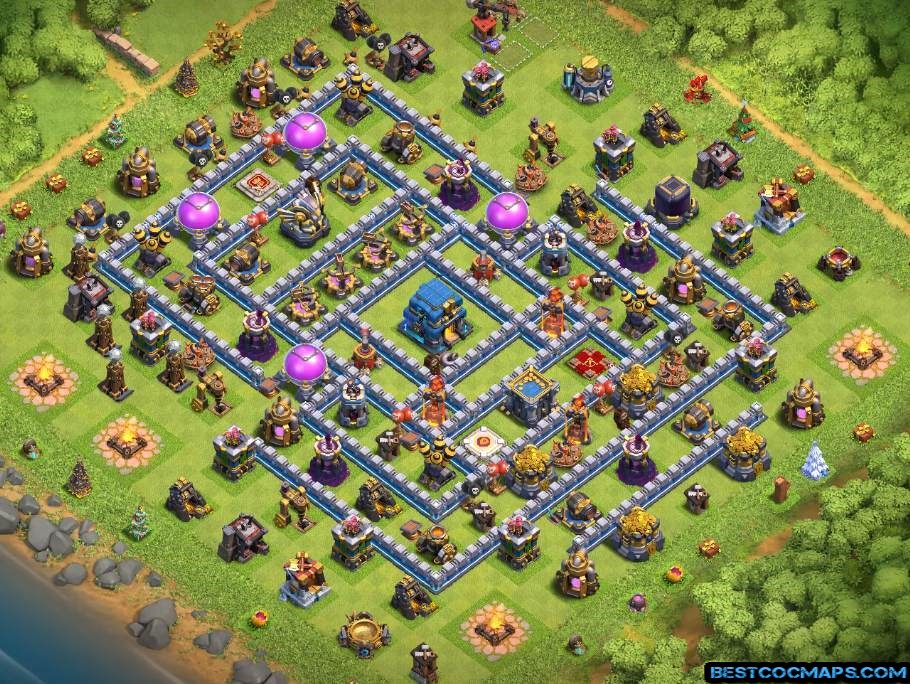 Best TH 12 Trophy Base With Link
You have to keep attackers to not make damage more than 50% quickly. To avoid damage make sure you don't have so many buildings beyond the walls. If you're going to leave several buildings outside the walls, make sure they're at least being guarded in some form (for example, using an Archer Tower). So, Archers and other smaller units can't quickly pick them up.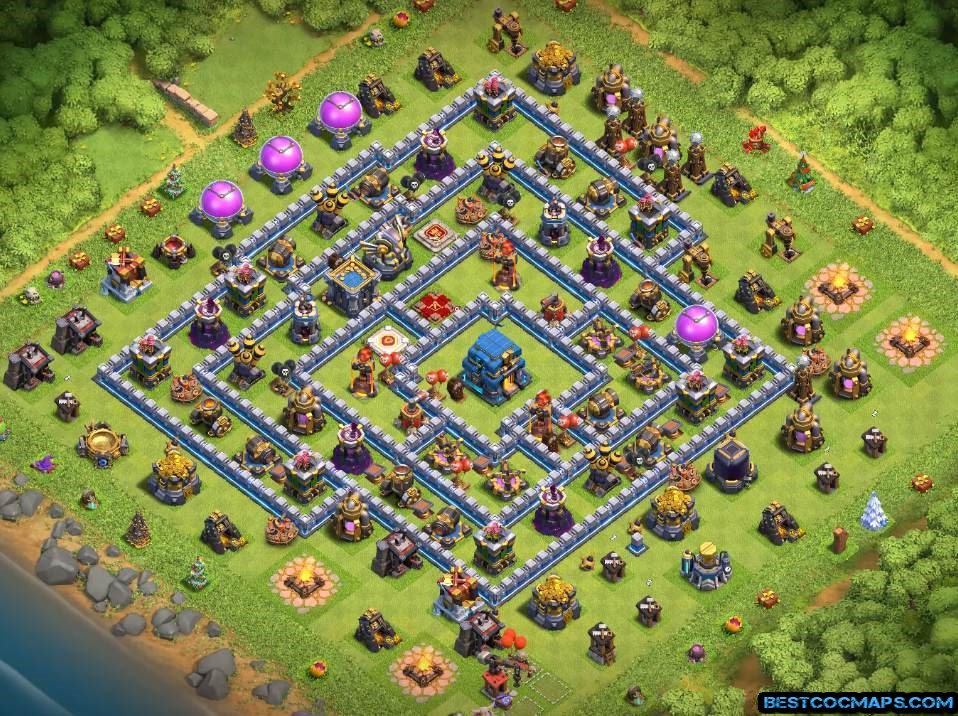 You can win trophies in low-mid leagues quickly. For this, you have to put the resource storage outside the walls. Farmers will easily pick just a few troops or only their heroes to loot from the storages. However, this is less likely to work at higher leagues.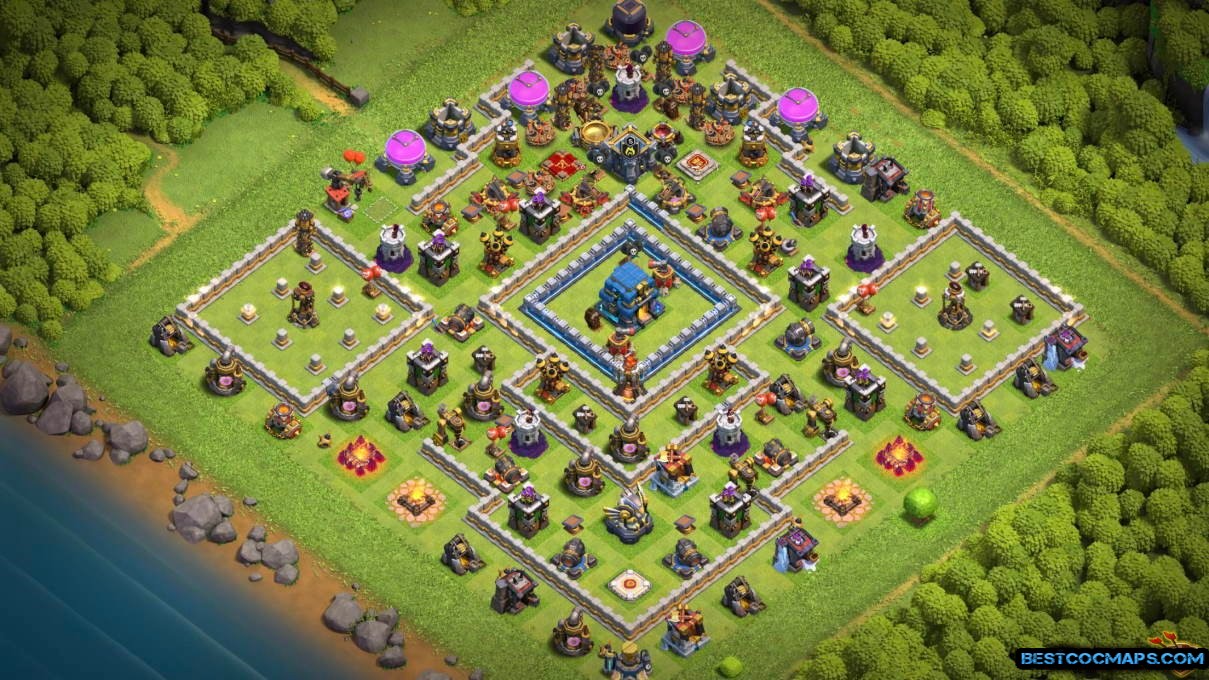 With the Trophy base design shown below, you can keep your Townhall and trophies secure.
Town Hall 12 Trophy Base Anti 3 Stars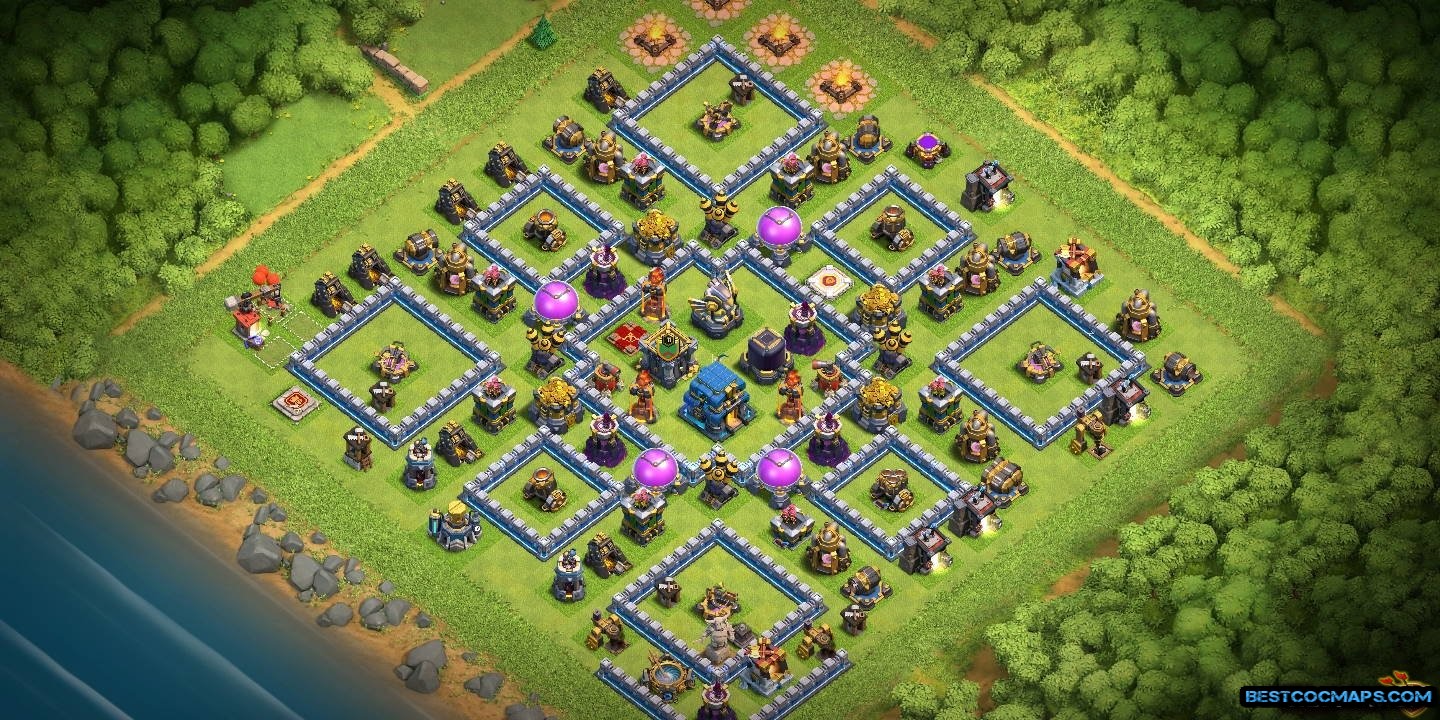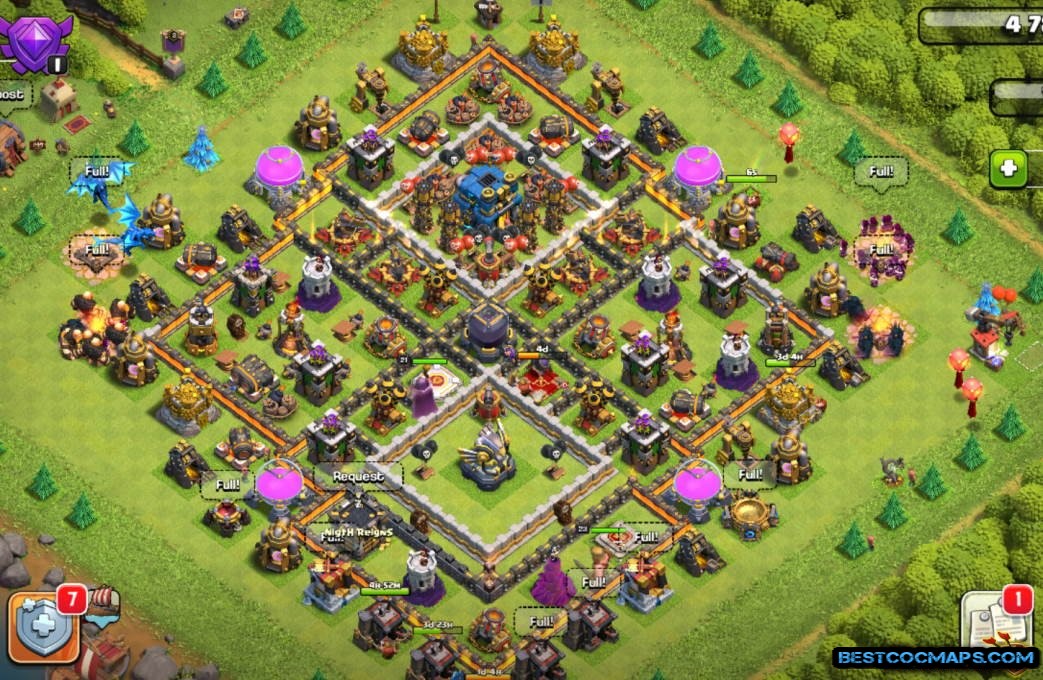 TH 12 Trophy Base Anti 2 Star